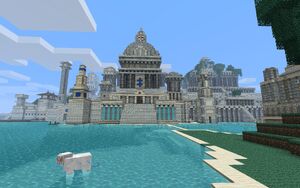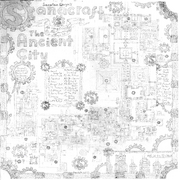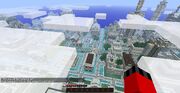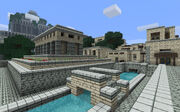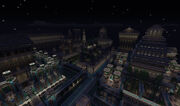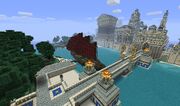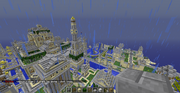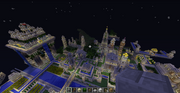 The Ancient City was the original map of the server, dating back to sometime in 2011. It was started as an attempt to build the hanging gardens of Babylon, but soon became a haphazard, rambling metropolis. The city was eventually replaced by the Golden City sometime in 2012.
Early History
Edit
The city started as Sanakan's attempt to construct the hanging gardens of Babylon in the middle of a lake. After this attempt came a second, and between them was a large Acropolis. After the map was opened to the public as a server, streets and buildings started getting added around the acropolis, but always with canals interweaving everything. As the city was built on a lake, each building was surrounded by a moat,with skinny paths leading out to thin roads, each flanked by thin canals. This gave the city a very Venetian-like feel, with water between all the buildings and bridges all over. Eventually, the city branched out enough to include the Mastercrafter Workshop, the Bathhouse, a Water Temple, a library, a harbor, a great Banquet Hall, a Museum to minecraft, a spawn building, and many Towers inbetween. The city was eventually capped off at one end by a large gatehouse, leading to a bridge crossing a river to a dock. At this dock was a ship you spawned in, "arriving" at the city.
The Biome Update
Edit
The city was not to last like this much longer. A Minecraft update redistributed the biomes in such a way that most of the city was covered in swamp colors and textures. Fortunately, Sanakan_Soryu made plans for a whole new city, the Golden City. The new city would be based on a pre-planned layout, unlike the organic nature of the ancient city's layout. The Golden City and the Ancient City coexisted for some period of time, with many buildings being moved to the new city to help fill space.
Current State
Edit
The city was inaccessible for a very long time until Chappedlips revealed he had a copy of the world save. As of August 13th, 2014, it had been reloaded for an unspecified time period, but as of June 2016, it is inaccessible to players.
Prominent Buildings
Edit
Original posts
Edit
Here is a link to the old minecraft forum topic of the ancient city. forum
Rare Video
Edit
Here is a link to the only known historical footage of the ancient city video Note- Venus rover now has lots of modern footage in his private collection.
Community content is available under
CC-BY-SA
unless otherwise noted.