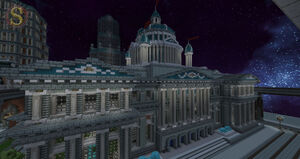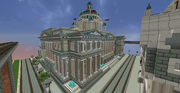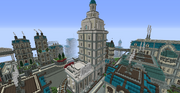 The archive building is a repository for all written knowledge in the city.
History
The building is one of the oldest buildings in the inner ring of the city to still be in its original location. It was originally constructed during a time when the server was overrun by buildings with cyan rooves, but remained when all of them were removed from around it. Now, the city is growing around it once again.
Architecture
The building is built in the shap of an "I". On the north and south facades there are each three pediments resting on rows of columns, with the pediments on either side resting on four and the one in the middle on six. On the west and east facades, there is one pediment each. This entire shape is surmounted by an impressive 2-tiered dome. On the inside, there are 2 main lobbies, both one story tall, for visitors entering from the north and south. The west and east lobbies are two stories tall, but have no reception desks, so while they are grander they are less important. Each corner of the first floor contains a two story green-room, containing trees and benches. between these corner rooms and the north and south lobbies are sets of staircases that lead up to a second level, though it could be considered a mezzanine. At this level, the tops of the stairs lead to grand hallways, with balconies onto the west and east foyers on one side and a large, square room to the opposite. This square room has stairs leading up to the rotunda on the third floor, a large circular room topped by a grand dome. The rotunda has doors on either side leading through shallow hallways to what seem to be reading rooms. These rooms, one on each side of the building, have mezzanines accessed by large staircases on either end of the rooms. The mezzanines hold the bulk of the actual bookcases. the mezzanines also wrap around the rotunda, and above them, an even higher balcony wraps around in a circle, accessible by staircases between mezzanine levels. The roof is split in two by the large dome, but either side has a large skylight to the reading rooms.
Interiors
Community content is available under
CC-BY-SA
unless otherwise noted.