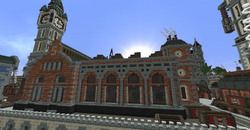 In its history, Sanacraft has gone through several architectural styles, and is still evolving today.
While most structures in the Ancient City - the first map on the server - resembled buildings from ancient Greece and Rome, the style became more complex in the Golden City, where ancient elements were combined with medieval or oriental ones until the city finally reached the Steampunk era. The Golden City, with its mishmash of styles, was abandoned shortly after and got replaced by Forgeheart, a hardcore steampunk city.
Steampunk
Edit
In its first era, Forgeheart was a typical steampunk metropolis with Victorian elements. Steampunk has many substyles; in Forgeheart, we decided to build mainly in the cleaner, bourgeois style, while most other minecraft steampunk cities are darker, "dirtier" and heavily focused on working-class homes and factories. In some areas you can find this style on Sanacraft as well, e.g. in the Shipyard district and the smaller cities like Irontown and Milldale.
Features of the inner city style were: sandstone buildings with some stone brick elements and cyan rooves. There were high-class and middle-class buildings, hotels, and skyscrapers.
Features of the Milldale & Irontown style are: medieval influences (mainly in Irontown), sandstone, stone bricks, and wood. There are cyan rooves in Milldale, and cyan and wooden rooves in Irontown.
Forgeheart Redesign
Edit
In early 2014, the hardcore steampunk style fell from favor after Chap had completed his Archive Building and defined a new style. The staff removed ~20 of the over 25 skyscrapers, and many smaller buildings like residential houses, as well as the New Palace. At East Plaza - the starting point of the new movement - the Carnival was replaced by a multi-layered plaza, the Atlas Building was replaced by Chap's City Hall and several other prominent buildings were built in order to create a new focal point.

Features of the new Forgeheart style are: a very clean look, use of quartz and nether brick as main materials, colored (hardened) clay, black bedrock rooves or cyan rooves,
The new style is heavily influenced by the different Revival architecture styles in the early 20th century. If you want to look for more information and inspiration online, try these keywords: Renaissance Revival, Art Nouveau, Second Empire, Beaux Arts, Baroque Revival, Edwardian Baroque, Gründerzeit, Paris architecture, Haussmann style, mansard roof
If you need some inspiration for your buildings in the Inner City, take a look at our collages:


Community content is available under
CC-BY-SA
unless otherwise noted.