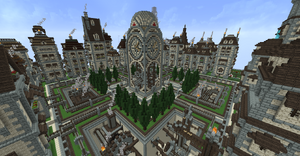 The clock tower district is the greatest example of early steampunk influence to ever exist on the server. It still exists, On top of a large section of the western city wall.
Construction
Edit
The area was originally near the southeast corner of the Golden City just southeast of the Golden City Pond, but was later moved to its present location in Forgeheart for its timeless architectural merits. The district was spearheaded by Sanakan_Soryu, when he built the clock tower at the center of the district. The clock tower is surrounded by a system of trenches, pipes, and boilers that power the clock and the surrounding homes. The area is a residential district, and soon members came flocking to build their own houses in this newly fashionable neighborhood. The houses were constructed in a relatively new style, the old steampunk before the cyan roof craze took over. Houses were sandstone and stone brick, with wooden roofs. Walls featured fences as window dividers, bump outs, flower boxes, balconies, and rusticated edges.
Community content is available under
CC-BY-SA
unless otherwise noted.