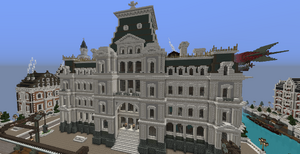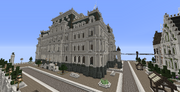 The post office was constructed on June 25th, 2014 by Venus rover in Forgeheart. It has four floors and is in the French second empire style. Its exterior was modeled after the old Boston Post Office and Sub-Treasury. The southwest corner originally stood on the spot of the former Old Forgeheart Town Hall, but now the entire building has been moved due to the Canal Remodel.
Interiors
Edit
The post office has 4 floors, with 2 rooms on the 5th floor giving roof access and an attic on the sixth. It has somewhere between 50 and 100 offices, but I'm too lazy to count them. These offices are all arranged around hallways circling the large central atrium. The atrium has a large skylight at the top, giving light to the mail sorting stations on the atrium floor. The room also gives light to the interior hallways on the first three floors, which all have arcade-like openings onto the atrium. Floors in main hallways are checkered marble with a quartz border, while offices have wooden floors with a quartz border. The first floor offices have very large windows, while upper floor windows are about half the size. The wall sconces in the atrium and hallways around it are a green tint, while sconces in offices are a yellow and sconces on the building exterior are a golden tint.
Community content is available under
CC-BY-SA
unless otherwise noted.