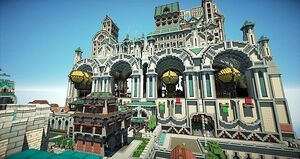 The transient train station is located at the northeast corner of Forgeheart.
The main builders are BlackEyeGoat and Moraedifex who built the station as a commission under San. On the east side of the station are buildings made by BlackEyeGoat and LilFizzie. Alongside BlackEyeGoat and Moraedifex were Demy & LilFizzie who also worked on much of the stations interior.
Many of the builds within the station are outdoor scenes, office buildings, bars, inns, and of course, a train track. The west side of the station known as, Coppertown, (known exclusively for all it's oxidized copper roofs) was built by Moraedifex.
It was also featured on BebopVox's Yogscast, "The Minecraft Monday Show #134".
Community content is available under
CC-BY-SA
unless otherwise noted.