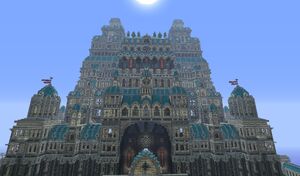 The Second Golden City Palace (also known as the New Palace) was originally constructed at the very center of the Golden City acropolis, but was soon moved to the center of Forgeheart. Here, it was separated from the rest of the city by a large ring of gardens, inside of which was a large moat, inside of which was a large wall, inside of which was a ring of gardens going around the palace. The palace itself was the largest building ever done in the full steampunk style of cyan roofs, though Serephina's West Castle comes a close second. The inside was monstrous, but managed to at least have half of its interiors completed. Still, only a the rooms in the center were done up completely; the ones around the edge were either almost empty or not even made yet. Eventually, the palace was deleted and the lot was used to temporarily store displaced buildings and statues.
The palace was preceded by in function by the First Golden City Palace and succeeded in function by Forgeheart Palace.
Community content is available under
CC-BY-SA
unless otherwise noted.